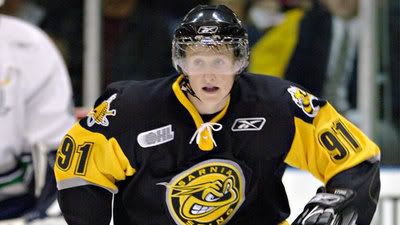 The ping-pong balls have been bounced, the order is selected; now let the speculation begin. Last night, the Tampa Bay Lightning won the NHL Draft Lottery making them the #1 pick for the NHL Draft in Ottawa this June. Since we know the top 14 order, let me go ahead and start the mock-drafting with the lotto picks
1.
Tampa Bay Lightning select Steve Stamkos, Sarnia Sting (OHL)
-- Stamkos can be a franchise player and has plenty of the tools to break into the NHL after his first camp. He has the right size and could learn a lot from another #1 pick, Vinny Lecavalier, on how to deal with the pressure.
2.
Los Angeles Kings select Drew Doughty, Guelph Storm (OHL)
-- Doughty is built like a brickhouse at 5'11 and 213 pounds. With Jack Johnson already back there, Doughty is another cog that could be used to solidify the Kings defense for years to come.
3.
Atlanta Thrashers select Luke Schenn, Kelowna Rockets (WHL)
-- Scheen is a solid defenseman who will help ease the pain of the Thrashers trading away Braydon Coburn. His right hand shot will also help out the left-handed heavy blue line in Blueland.
4.
St. Louis Blues select Kyle Beach, Everett Silvertips (WHL)
-- Beach has made his mark on the WHL, which will help entice the Blues on picking him up. Beach is very much like a current Blue, Keith Tkachuk, in that he can score, muck it up on the boards, and drop the gloves when needed.
5.
New York Islanders select Zach Bogosian, Peterborough Petes (OHL)
-- While the future in net and up-front seem to be in check, Bogosian can bring a young puck-moving defenseman to help out with the duties that could arise for the Isles down the road.
That's the way I'm seeing the lotto picks. As we get into lulls of the playoffs, I'll get a little more in-depth, complex-- full of sleepers and disappointments and the full draft board through the first round by the Cup finals....stay tuned.